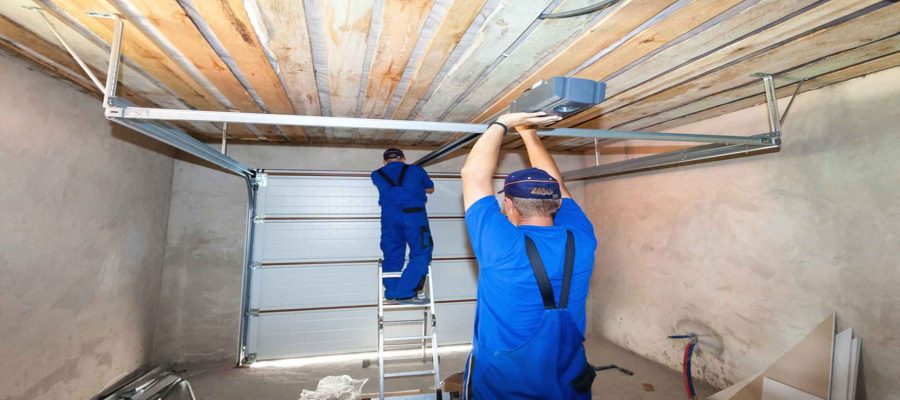 Pensacola Garage Door Repairs
If you are trying to install a garage door, or perhaps repair one, you know that this can be difficult to do on your own. You will likely lack the tools, and the expertise, that will be necessary to complete the job. If you are currently residing in the Pensacola area, there are many garage door repair companies that can provide you with this type of service. Overhead Door and Operator is a garage door repair company that does both repairs and installations. If you need to find a Pensacola garage door repair company, look no further than Overhead Door and Operator. 
Common Problems That Occur With Garage Doors
Garage doors that do not open, or are simply not functioning properly, are likely experiencing one or more of the following issues. The electrical system to the opener itself could be faulty. You may also have a mechanical problem related to the garage door rails or the torsion springs. A professional will know how to diagnose the problem within a few minutes. If your garage door is opening and closing at an angle or is simply stuck in place, they will know what to do. Other problems may include a need for a realignment, balancing, or replacing garage door panels that have been damaged.
Repairs And Installations For Garage Doors
The need for garage door repairs is quite common. It is also necessary to install brand-new garage doors from time to time. In fact, when new homes are built, or if someone is remodeling, they will often have a professional garage door company install a new one. It is important to choose one that will match or improve the exterior of your home. Whether you are going to live there for several years, or if you are trying to sell your house, this can be beneficial. It can actually raise the property value by choosing an elegant garage door. For repairs, you can also call the same company that does the installations.
Choosing The Best Pensacola, Florida Garage Door Repair Company
The evaluation process that you will go through when selecting one of these companies is relatively easy. There are only a few factors to consider. If you are trying to have garage door repairs done, make sure that they advertise their ability to fix virtually any problem that you may have. These problems may include having a garage door that will not open. It may also make a very annoying grinding noise. You may have detected cracks that are developing or broken weather sealant, and both of these problems can be resolved quite quickly. If your garage door is only opening slightly, and then shutting, this typically has to do with the electronic eye. There are also settings on the garage door opener that may need to be reset. This is quite common if the garage door is not going all the way down to the bottom. When you select a company, they should present information about the different repairs they can do. They may also have a calendar of when they are able to help. If you are searching for a garage door repair company in Pensacola, look to us at Overhead Door and Operator. We can do any type of garage door repair.
How Long Does It Take To Get Someone To Arrive?
Many companies do offer emergency garage door repair services. They may provide this for people that are in a difficult situation. If you cannot open your garage door, and you need to go to work, they can come out to open it. If they have the time, while they are there, they can assess the situation. If they need parts, they can order them right away. They may even be able to go to a local store to pick them up and do the repairs subsequently. However, if they do not offer emergency garage door services, it could be one or two days until they arrive.
Different Parts On A Garage Door
A garage door is a very complex apparatus. Most people do not think of that. They simply understand that they press a button and it will open or close. It has many different parts including brackets, bearing plates, winding cones, cables, and different springs that provide separate functions. There is also the complexity of the motor in the garage door opener that can go out at any time. A professional company like Overhead Door and Operator will know exactly what to replace once they have determined what your problem is. In no time at all, your garage door problem will be resolved. Keep in mind that some of the parts may not be readily available. Although Pensacola is quite large, some of the parts may not be for sale in the city. You may have to wait a few days until we can come back to help you. Once we receive them, we will get your garage repairs done promptly.
If you do need a Pensacola garage door repair company to help you, consider working with us at Overhead Door and Operator. We are ready and willing to help anyone that needs to have one installed, and we can also repair any garage door that has existing problems. If it is going to cost you more for the repairs than a replacement, this is the information that we will provide. If you are ready to resolve your garage door issues, consider giving our company a call. 
Overhead Door And Operator For Garage Door Repair
Call Us if your garage door is not operating correctly. We offer a variety of residential and commercial garage door repair services, including:
Garage Door Realignment and Balancing

Garage Door Extension Spring Replacement

Garage Door Torsion Spring Replacement

Garage Sensor alignment

Garage Door panel/section replacement

Garage Door cable, hinge, and roller replacement

Garage Door Control panel and remote opener repair

Premium Roller Replacement

Garage Door Lubrication

Garage Door Off Track

Broken Garage Door springs

Garage Door Opener repair

Damaged Garage Door Panel

All other garage door parts
Get A Free Consultation
We are more than happy to give you a free consultation. We will come out to take a thorough look at the problems with your garage door and give you advice on which solution is most suitable for your needs. Give us a call and we will come discuss the various options with you now. Our advice is free!